This calculator will help you to estimate the cost of selling your home.
For your convenience current Ashburn mortgage rates are published below.
Current Ashburn Mortgage Rates
We publish current Ashburn mortgage rates. VA homebuyers and refinancers can use the filters at the top of the table to see the monthly payments and rates availble for their loans.
A Complete Guide to Selling Your Home
Published: November 15, 2013
Last Updated: September 18, 2020
If you decide to sell your home today, will you make a profitable sale?
The market bottomed around 2012 and has been straight up through 2017 until the Federal Reserve began normalizing interest rates.
According to existing home sales data from the National Association of Realtors, a spike in July 2019 meant a complete reversal as compared to June's slight dip, with western states recording strong home sales growth.
According to the NAR 2018 Profile of Home Buyers and Sellers, only 64% of home sellers were completely satisfied with the entire home selling process. This is slightly higher than the 62% recorded in 2017.
Home selling might seem unimposing at first, but it can be grueling and has a lot of issues that might come as a surprise especially if you do not have everything you need organized in advance.
Selling your house is serious business, which is why you have to make sure that your house falls into the hands of the right buyer at a price you can live with.
The COVID-19 Impact on The Real Estate Market
The COVID-19 health and economic crisis in 2020 has caused many city dwellers to move to suburbs or rural areas as the incentive to live in locked down cities decreased. Those working from home may decide to buy a bigger place with additional ammenities like a large home office or an extra bedroom that can be converted to a home office. Livng further from the office does not equate to an extended daily commute if they do not need to regularly commute to the office. Some large employers including Google and Facebook allow work from home through the middle of 2021.
2020 is looking to be a strong year for mortgage originations with estimates above $3.5 trillion that seem to keep getting upgraded throughout the year. Many homeowners have taken advantage of the falling interest rates sparked by the crisis to refinance their homes and this has coupled with the migration toward smaller cities and towns to create a record loan volume.
Tens of millions of homeowners immediately applied to loan forebearance programs while many renters did not pay rent to their landlords in the wake of mass layoffs that prompted temporary eviction prohibition. The general trend for the second half of 2020 is more people are buying new and existing single family homes in areas with lower population densities while demand for multi-unit residiental properties declines. Those who live in cities with high living costs, lockdowns, and in some cases even riots that have helped spark rising violent crime waves and looting see less incentive to continue to live through the local volatility.
The work from home movement COVID-19 forced has caused many businesses to restructure and it proved that many people can work from home. This may have a lasting impact on the property values of urban residential real estate. Rory Sutherland suggested the following:
"It is a campaign to allow technology to deliver its promised benefits to the quality of working life. If such a movement failed to take shape before, it was only because, while many of us suspected we ourselves could work effectively from home, nobody (even me) believed such a system could function at scale. We do now.

Given the extraordinary centralising forces of the past 40 years — where the gains of the knowledge economy have disproportionately accrued to rent-seeking city landlords and transport networks — the freedom to work remotely is an instant 20 per cent pay rise. And sorry Boris, but if I travel to work in order to buy a £6 sandwich, in the short term, yes, I am bailing out Pret A Manger, but in the long term I'm bailing out the Duke of Westminster."

How Should I Prepare My House Before Putting it On the Market?
All home sellers would probably agree that the best home sale happens if the property is sold quickly, with the seller profiting from the sale.
This typically only happens if you invest in needed repairs, renovations and other preparations to make your property appealing to prospective buyers. It also depends on local market conditions. Some markets are hot, others are cold.
Here's what you need to do to make sure that buyers will take notice of your house the moment it enters the real estate market:
Make the necessary home repairs
Deep clean and declutter everything
Learn the art of home staging
Start promoting your house to the real estate market
Make the necessary home repairs
A lot of home sellers, particularly first-time sellers are notorious for going berserk when it comes to prepping houses for sale as they start doing a lot of unnecessary renovations and remodeling. But it's actually more than enough to make sure that everything in the house is working at a functional level without overspending on unnecessary upgrades on the way out.
Making sure that you only fix whatever is needed saves you time & prevents these preparations from leaving a dent in your wallet. According to the 2018 Cost vs. Value Report of Remodeling Magazine, midrange kitchen renovations recoup 59% of the total money spent, while upscale kitchen remodeling recoups 53% of the total cost.
You might not get your money back after all of that hefty and unnecessary repairs, and failing to do repairs that are needed in spite of large-scale remodeling might do your home sale more harm than good.
The buyer will likely want to make changes to suit their needs, to replacing all the appliances & doing other costly upgrades may not factor much into what they are willing to pay for the home. And if you leave major issues buyers will use those as bargaining chips to negotiate the price down.
Instead of coming up with large-scale renovations that might be too costly for your own good, consult instead with a real estate professional and get a pre-inspection of your house so you can see what needs to be repaired and have it done before putting it up for sale.
Leaving obvious issues gives buyers a bargaining chip to use against you when negotiating price.
Deep clean and declutter everything
Decluttering your home and deep cleaning everything is a must if you want your property to sell. Prospective buyers will want to see every square inch of your home as well as visualize their own furnishing, and this will be easier for them to do if your home is free from any kind of clutter including your personal belongings. A decluttered home with little to no furniture & lots of storage space feels more spacious than a home full of furniture.
Deep cleaning is a must when it comes to prepping a home for sale. Dirty rugs may only cost $100 to clean, but a buyer could claim they need replacement & try to knock an extra $1,000 off the home's price. A fresh coat of paint also improves the perceived condition of a home.
Learn the art of home staging
Home staging is the art of showing off the merits of a home by incorporating good lighting, furniture, and other accents and decor until it looks like a showroom.
Usually, home sellers let professional home stagers do the job for them. This can be a costly if not unnecessary venture as it's easy to do home staging on your own.
Make sure to not include any worn-out furniture in your home stage.
Arrange the space in such a way that it shows functionality while also leaving plenty of empty space to move around.
Neutral color palettes are typically best to showcase your home, especially when paired with lots of natural lighting.
Start promoting your house to the real estate market
It's usually the job of your real estate agent to market your property and make sure that it gets sold quickly, but you can help make things easier and faster by marketing your property on social media channels such as Facebook, Instagram & Pinterest. Some locales also have active Craigslist sections or widely read local community sites where you can advertise your property for sale.
You can also ask your agent (if they haven't done this yet) to put your property up for sale in websites that specialize in buying and selling property.
Online marketing can speed up the sales process since 44% of home buyers look for properties on the internet first, according to data from NAR.
When is the best time of the year to sell?
A 2018 report from Forbes says that the best time to sell a home in the US is May to June.
Properties sold during the first half of May 2019 sold at $1,600 above the average market listing & were sold six days faster.
Parents with children in school may try to time moves in the Summer to not interfere with their child's education, so they usually shop in Spring awaiting Summer recess.
Economist Jeff Tucker also affirms that the month of May is the best period to put property on the market:
"Nationwide, homes listed for sale between May 1 and May 15 tended to sell for about 0.7 % or more (or roughly $1,600 on the typical U.S. home) and about six days faster than usual. And while the exact best time to list a home varies from market-to-market, in most cases the magic window falls squarely in spring."
Mortgage rates may also play a significant role when it comes to determining the best time to put up your house for sale. In the US, mortgage rates have remained relatively low during the past four years & have had a muted impact on the home purchase market.
The Tax Cuts and Jobs Act started to cause the American economy to overheat so the Federal Reserve Open Market committee raised short term interest rates 8 times in a couple years to exit emergency conditions adopted after the Great Recession. Trade war with China remains a wildcard.
Mortgage rates are now slowly picking up pace, and economists say that this will increase steadily in pace with the rising economy. If mortgage rates continue to rise that would make servicing loan payments more expensive, which could cause housing prices to soften.
How long does it typically take to sell?
The period between putting your house up for sale and the moment you seal the deal with a buyer depends a lot on location, desirability and the current state of the local real estate market.
Real estate marketplaces usually state that the average time of selling a property can take anywhere between 65-70 days before it gets sold, although again these may vary depending on location.
Current market conditions also play a big role when it comes to determining whether your house will spend a lot of time sitting on the real estate market or otherwise.
If you sell your property during a seller's market, then you won't have to worry about your property not getting sold since there will be more buyers than sellers in the market at prevailing rates. In some cases this can drive a bidding war which causes some homes to sell for thousands above their list price as buyers who are frustrated on missing out on other homes overpay for certainty.
If you sell during a buyer's market, then your home may stay on the market for an extended period of time or you might need to lower the home's price to attract buyers.
Factors like falling interest rates, increasing monetary liquidity, rising consumer confidence, falling unemployment, tax policy changes, recent price gains & capital flight from foreign markets can boost real estate investment at the national level.
So what is the current market condition? Is it a buyer or a seller market?
Any given local market can be both things at the same time.
In Summer of 2019 Los Angeles had a glut of luxury properties which failed to sell, requiring bread and circus styled publicity stunts coupled with sharp price reductions to try to create buzz and sell.
While the top tier properties struggle to sell, median property prices held firm & lower priced properties continued to appreciate.
For nearly a half-decade Seattle had strong buyer demand from renters who were frustrated by rising rents. Recently many of the large multi-unit properties have completed, causing Seattle rents to drop, which lowers urgency among some prospective buyers.
Sites like Zillow provide local market price trend graphs by property type & forecast future price changes.
How should I price my house for sale?
Both newbie and seasoned real estate players know that one of the most challenging aspects of selling a property is knowing how much you should put on your house's price tag before putting it up for sale.
While it is highly recommended to work with a professional Realtor, knowing how to price property based on the market can help you set your expectations & plan your finances.
Before anything else, you must first identify the estimated market value of your house. Afterwards, you can request for a Comparative Market Analysis (CMA) from a real estate professional. CMAs are usually used to gauge the prices of recently sold properties. You can use this so you can have an inkling of just how much buyers are willing to pay for a property.
You can also peruse real estate online marketplaces and compare the prices of nearby homes which have recently sold & homes currently listed against how much buyers say they can afford.
How should I put a price tag on my property based on current market conditions?
There are a lot of factors that will influence how your property's price will bode. This includes seasonality, inventory, and whether the market is a buyer, seller, or a neutral market.
A lot of real estate buyers and sellers across the US will probably agree that the usual best time to sell a home is around spring, while winter is the worst season to put up a house for sale.
You should also consider the volume of buyers against the volume of sellers to help you decide how much you should price your home. If your house directly competes with more than 20 houses in a single area, then you might find it hard to close a favorable deal.
But if you live in an area where there are few houses, then you might be able to get an even higher asking price, especially during the seller market season.
If you find yourself in a neutral market situation, where the number of buyers is equal to the number of sellers, then it is best to keep a constant eye on nearby homes so you can be sure that your property price is similar with others.
Should I Work With a Realtor?
The majority of home buyers utilize the services of both real estate agents and online marketplaces when searching for properties.
| Resources type | % of buyers used |
| --- | --- |
| Online resource (internet) | 87% |
| Real estate agent/broker | 75% |
| Open house/for sale sign | 64% |
| Referrals from relatives/friends/neighbors | 51% |
| Sales centers/home builders | 40% |
| Print advertisements | 39% |
| Direct mail | 26% |
While most buyers use online resources to look for a home (87%), they still typically work with real estate agents (75%) due to their undeniable market expertise.
While virtually everything can be done online, buying a home is one of the largest & most emotional purchases most people will make in their lifetimes.
Home sellers are advised to work with Realtors since real estate brokers know the market well. Their expertise is beneficial for sellers who want to sell fast and make a reasonable profit from their home.
How much does a real estate agent usually make?
Real estate agents make their living by take a small commission from the final selling price of each home that they successfully have a hand in selling. This percentage typically falls in the 5-6% arena, but the figure changes depending on where you are in the country, when you are attempting to sell your home, what agency you go through, what agent you use, and how successful your attempts at negotiation are. At closing, when the home buyer and seller shake hands, sign contracts and exchange funds, the real estate agent is entitled to their piece of the pie, otherwise known as the commission.
The majority of real estate agents will usually take around 5-6% from every successful home sale they make. The seller pays the corresponding amount upon closing to their agent, who will then share the commission with the buyer's own real estate agent.
These commissions are negotiable most of the time since commission rates in the real estate industry do not have a fixed value.
This is why home sellers should be wary should their agents start mentioning a "traditional commission" as this might be an indicator that your agent belongs to a group of agents trying to fix their prices by charging uniform commission rates.
How to Haggle for a Lower Commission
If you are in the market for a real estate agent but reluctant to dive into the world of expensive agencies, seemingly overpriced services and advertising fees, consider doing the now popular thing and haggling with your agent for a lower commission cost. You can drive a hard bargain with your home's selling representative by letting them know about other, similar services in your area that are charging less, and keep them to that percentage instead. Getting estimates from several different agents and then showing the anticipated pricing to the one agent you really want to hire is often a good plan. You could offer to give your agent a higher commission if they sell your home for a certain target price or if they flip the sale within a specified amount of time. Alternately, you can threaten them with leaving for someone cheaper – consider alternative discount brokers who offer less services for less commission. Discount brokers may be able to sell your home for as little as a 3% commission, which is quite a bargain in the world of real estate. If you try a few of these tactics before settling down for a high commission, you are likely to find that the real estate agent of your dreams will be willing to strike a financial compromise with you as their job as an advertiser has become so much easier with the popularity of online home selling search engines.
Advertising Costs Associated with Selling a Home
Along with the commission for the lucky agent, the home owner will also be responsible for advertising costs that push the home into the sphere of the online and paper catalogs of real estate. Together, the advertising fees and the real estate agent commission add up to the total sum that will be subtracted from the final selling price to make the net profit of the seller. Other additional fees may be incurred along the way, but these two you can count on. Advertising costs may include newspaper publishing, magazine or journal ads, online directory features, graphic print outs, signs, and printing.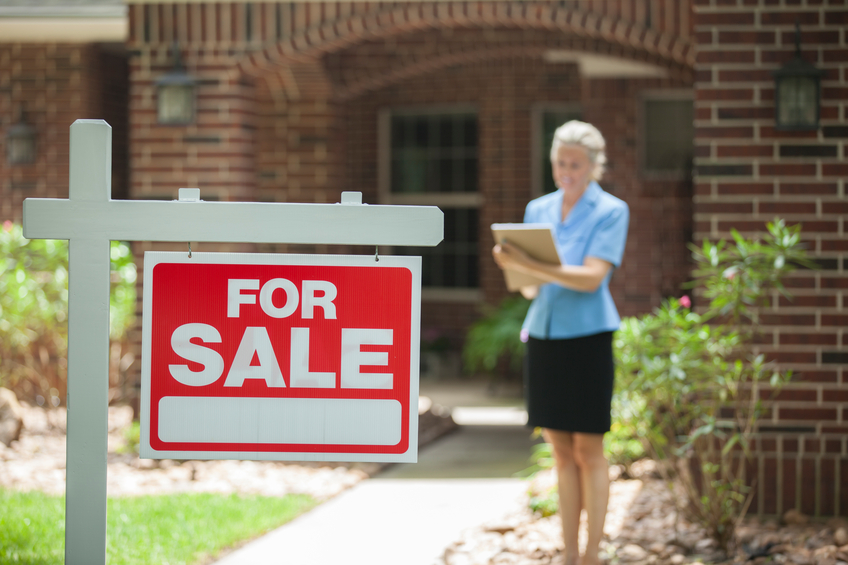 When you estimate the cost of selling your home down to a hard and fast number, you will have no nasty monetary surprises when plunging into the selling process, whether you decide to do the deed yourself or go through the agency. The commission, if you can haggle it down to a reasonable percentage, is often a worthy price to pay for having the whole affair nearly done for you by a real estate agent.
When should I opt for a For Sale By Owner (FSBO)?
Taking the FSBO route is not something that's highly recommended for most sellers, but there are actually a couple of instances where an FSBO might actually be a wise decision.
First, if you already have a strong, sure buyer for your property willing to pay cash immediately, then it will be safe for you to forgo the services of a Realtor and make direct transactions with your buyer instead. You will only have to work with an appraiser for the house price and an attorney to sign the paperwork.
Second, if you want to save on commission expenses & other fees associated with hiring a real estate agent and you'd want to keep the entirety of the profit, then FSBO is an option.
Keep in mind, however, that selling your property without the services of a Realtor means that you will have to do everything, from paperwork to looking for a buyer to marketing your property. You also run the risk of getting scammed especially if you are a first-time seller.
What is an iBuyer and when can I use their services?
iBuyers are companies that utilize technology that will make an offer on your home sale within minutes after posting it online and uses a proprietary valuation model as their basis.
If you think that the price offered by the iBuyer is fair, then you can easily close off a home deal in just a few days. But is there a catch? And if yes, then what is it?
On the other side of iBuyer transactions is an investor or an entire corporation raring to make money, and while transactions come quick, they won't come cheap.
iBuyers charge a full commission plus a fair value discount to offset the the risk on their behalf after they provide you with instant liquidity. This is also referred to as a "liquidity premium" since the iBuyer uses their own funds to purchase the property.
iBuyers are still relatively new to the real estate market, but it is estimated that additional costs stemming from iBuyer transactions come in at around 10% of the fair market value, a far cry from 5-6% commissions by real estate agents.
Some unscrupulous iBuyers may offer to buy at near market rates & then layer in excessive repair fees to change the price after the fact.
If you are willing to pay for certainty & need a fast sale, then going for an iBuyer transaction might be the best option for you. Otherwise, it is best to work with a real estate agent.
Home selling can be a very daunting task, especially for first-time home sellers. But understanding what you need to do as a seller and working with professional service providers will increase the likelihood of a smooth transaction.
Want to Add This Calculator to Your Website?
Want to help your customers estimate commission costs? You can add a version of this calculator to your site by embedding the following code.