Want to Share This Infographic?
Please use the following source code to syndicate this infographic on your website.
A textual guide to the history of the tiny home movement is published below.
The Tiny Home Movement: A Comprehensive Guide
In recent years, news of people moving to tiny houses have circulated the media.  
From a family of 4 in a 196-square foot trailer house, to a single man living in a cozy 83-square foot cabin, these stories show it's possible to live in smaller dwellings while reducing expenses.
However, there's more to living in a mini home that meets the eye. Here's a comprehensive guide to tiny houses, and how this market has grown—and is still growing—throughout the years.
What is the Tiny Home Movement?
It's all about downsizing your lifestyle. At its core is the drive to free one's self from debt. It also springs from the desire to create more environmentally friendly spaces.
Time Magazine states, "the concept describes efforts by architects, activists and frugal homeowners to craft beautiful, highly functional houses" with a smaller space. For them, it's a practical response to soaring housing costs and shrinking incomes.
Just how small is a tiny home? A house is considered "tiny" when it's between 80 to 400 feet. Tiny House Talk, a resource site for living small, says a micro home is:
At least 8 ft. in height
Has doors 6-8 ft. high
Has standard kitchen counters 3 ft. tall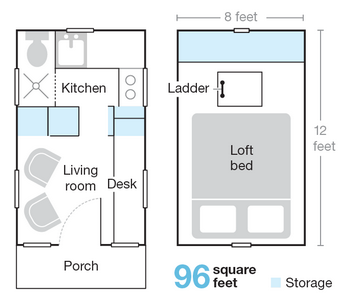 When It Began and How It Grew
Date
Tiny Home Movement Timeline
1854
H.D. Thoreau publishes "Walden"
1987
Lester Walker publishes "Tiny Houses: Or How to Get Away from It All."
Mid-90s – Early 2000s:
Books & blogs feature mini homes, simplified lifestyles. The rise of tiny house construction companies.
1999
Jay Shafer founds Tumbleweed, the first U.S. company to sell mobile tiny houses.
2007
Kent Griswald founds the first tiny house blog that provides design and construction options.
2009
The housing crisis struck in the U.S., making tiny houses a viable option.
2010 – 2016
Those affected by the crisis downsized their homes. Some opted for tiny houses.
2012
Shafer leaves Tumbleweed to establish Tiny Home Builders – focuses on workshops, develops tiny house communities.
2014
Spur in West Texas becomes the first tiny house friendly town.
Reality shows Tiny House Nation and Tiny House Hunters debuted on national TV.
2017
The rising rate of homelessness in certain U.S. states spurred interest in tiny house options.
2018 – Present day
More jurisdictions updating housing and zoning laws to legitimize tiny home ownership in the U.S.
The movement isn't new. In 1854, naturalist Henry David Thoreau published "Walden," a chronicle of his life in a 150-square foot cabin near Walden Pond outside Concord, MA. Thoreau built the cabin and lived there for two years.
"A man is rich in proportion to the number of things which he can afford to let alone."


―Henry David Thoreau, "Walden"
Rise from the 1980s to Early 2000s
In 1987, Lester Walker published "Tiny Houses: Or How to Get Away from It All," featuring photographs and drawings of mini homes, such as a 192-square foot prefab house.
Promoting the benefits of tiny living gained traction toward the mid-90s to early 2000s. In 1999, Jay Shafer founded Tumbleweed Tiny House Company, the first U.S. company to sell mobile mini homes.
Other books and blogs were published by enthusiasts. Kent Griswald founded the first tiny house blog in 2007, which offers design and construction options to simplify and downsize homes.
The Housing Crisis Prompted Need for Smaller Homes
When the 2009 housing crisis struck, more people realized its advantages. The following years from 2010 onward saw people down-scaling their homes, some opting for tiny houses.
When it comes to zoning laws, in 2010, Portland excused small units from fees associated with new construction. This includes payments for water, sewage and street access. WSJ reports that a homeowner in Portland with a backyard unit can save 10 percent of the overall construction cost, which is estimated at $8,000 to $11,000.
Shafer left Tumbleweed in 2012 to establish Four Lights House, now Tiny Home Builders. The company also focuses on books and hands-on workshops to develop micro house communities.
In 2014, Spur, a town in West Texas, declared itself the first tiny house friendly town. They allow homes smaller than 500-square feet to be built within its jurisdiction. In the same year in Portland, OR, reality shows Tiny House Nation and Tiny House Hunters debuted on national TV.
By 2017, the Wall Street Journal (WSJ) reported that tiny housing options increased in interest due to rising homelessness in certain U.S. states.
Tiny Housing Towards the Present Day
In a 2015 study by the Journal of the American Institute of Architects, the top states to own micro houses were:
California
Oregon
Texas
North Carolina
Florida
Though Florida and Texas were in the top 5, the research shows many areas made it illegal to live in accessory dwelling units (ADUs) or micro houses.
Tiny Home Initiatives in Progress
Today, living in tiny homes is made more possible through the efforts of organizations such as the American Tiny House Association (ATHA) and the Tiny Home Industry Association (THIA).
ATHA's goal is to support tiny house enthusiasts who are seeking creative and affordable housing as part of a more sustainable and self-reliant lifestyle. On the other hand, THIA's mission is to unify a movement by developing standards and promoting best practices in construction, placement and widespread use of tiny homes as permissible and permanent housing. They envision a world in which people are allowed to choose from a broader range of economical, ecologically responsible, safe and healthy housing solutions.
Janet Thome, THIA media coordinator, states that great progress is happening in the tiny home movement, such as more jurisdictions in the process of legalizing tiny homes, the overall positive socio-economic impact it brings to communities, plus growing financing and insurance options.
In terms of setting standards, Appendix Q was adopted into the 2018 International Residential Code (IRC) building code to provide regulations and standards for tiny homes on a foundation that is 400 square feet or less. THIA is documenting the state and jurisdiction progress as it is added to their building codes.
Moreover, tiny home-construction helps students learn skilled trades. Around 70 percent of construction companies have difficulty finding qualified builders. With curriculum that teaches math by building tiny houses, students learn essentials skills like carpentry, welding, mechanics, and plumbing.
It's a step that can help disadvantaged youth obtain future jobs and get off the streets. Skilled trades fall under work that can pay up to $55,000 a year, which don't require a college degree.
For insurance and financing, there are now more options available to those who wish to have their own tiny house. Just visit THIA and the following pages for more updates.
Jurisdictions Allowing Moveable Tiny Homes
Advantages of Living in Compact Houses
"The benefits of tiny homes are obvious. There's less maintenance, reduced financial burden and added movability and mobility for a change of circumstances," says George Chmael in an interview with American Association of Retired Persons (AARP). Chmael is CEO of Council Fire, a Maryland-based consultancy for nonprofits, governments and communities for sustainable building.
People live in smaller dwellings for three main reasons:
Financial stability – to manage debt
Desire for flexibility / freedom
Environmentally friendly spaces
Micro Home Construction Costs
| Micro Home Construction Costs | Range |
| --- | --- |
| AVERAGE COST | $23,000 |
|   | Between $30,000 – 40,000 |
| LOWEST | $500 |
| HIGHEST | $180,000 |
| TINY HOME KIT | $10,000 |
| TINY HOME BUILDERS SHELL (144-square feet) | $12,000 |
| TINY HOME BUILDERS STARTING CONSTRUCTION COST | $45,000 |
| FIXED SETUP (FOUNDATION) | $25,000 |
| MOBILE SETUP (TRAILER) | $35,000 |
As reported by Business Insider, the median cost for a tiny house is $59,884. But it can go anywhere from $10,000 to $180,000, according to an interview with Chris Dorsey, producer of the TV show Tiny House, Big Living.
That's significantly more affordable compared to traditional housing, with a median price of $312,800 as of July 2019. (U.S. Census Bureau) For anyone who has a tight income, Dorsey says the average cost falls around $30,000 to $40,000. 
Micro home building costs depend on these factors:
How much you plan to build yourself
Construction materials
Complexity of the building plans
Building on a foundation or trailer
Chosen location
Like most construction projects, it's more affordable to build it yourself than to hire construction. However, not everyone is skilled in carpentry, so people take tiny house DIY workshops. There are home kits that cost less than $10,000, complete with blueprints, a list of building supplies and a customized trailer to build upon.
Real estate specialist Ryan Fitzgerald suggests preparing at least $65,000, because people might end up spending $25,000 on materials alone. Some homeowners opt to use recycled materials, making it cheaper.
The Average Cost
If you were to build your own 2,000-square meter home, it will cost at least $206,132, according to Land Century, a dedicated real estate marketplace platform. The average cost of a DIY tiny house is $23,000, says The Tiny Life, a community site dedicated to small living. There are build-your-own micro homes that cost as low as $500 to $12,000, but their owners are usually skilled at construction and have knowledge of architectural design.
The expenses depend on the price of supplies and how much contractors charge. For instance, a standard shell sells at $17,000 (12 feet) to $37,000 (28 feet) from Tiny Home Builders. It does not include add-ons like plumbing and electrical systems. If you need help, construction starts at $45,000.
Homeowners also consider whether they want a mobile home, which entails added costs. For instance, if you spend $25,000 on a fixed setup, you're likely to spend around $35,000 on a mobile one.
Helps Eliminate Mortgage and Other Debts
| Home Owner Type | Tiny Homes | Traditional Homes |
| --- | --- | --- |
| U.S. MEDIAN COST | $59,884 | $312,800 |
| AVERAGE COST TO BUILD YOUR OWN HOME | $23,000 | $206,132 |
| HOME OWNERSHIP | 78% own their home | 65% own their home |
| MORTGAGE | 32% have a mortgage | 64.12% have a mortgage |
| CREDIT CARD DEBT | 40% have credit card debt | 37% have credit card debt |
As of 2015, 68 percent of tiny homeowners have no mortgage compared to 64.12 percent of all U.S. homeowners, according to frequently cited data from The Tiny Life. It also states that 78 percent of micro house dwellers own their property, while 65 percent of people own their traditional home.
Take note: However, it's hard to know precisely how many people live in mini homes because they fall under a niche market. Many micro houses are not subject to the same building regulations as traditional houses. Plus, tiny homeowners do not normally participate in registries. Most of the data gathered are based on surveys and interviews from news outlets and tiny home organizations.
To illustrate how much savings can be gained, check the example below.
| Traditional, 30-Year Fixed Mortgage | Micro House (non-DIY) |
| --- | --- |
| Average Home Price: $312,000 | Average Tiny Home Price: $23,000 |
| Loan Amount: $250,000 | 196-square feet |
| Interest rate: 4% | Materials: $10,000 (with tiny home kit) |
| Monthly mortgage payment: $1,194 | Construction: $25,000 |
| Total Interest: $179,674 | Total cost: $35,000 |
| Sum of all monthly payment with fees: $429,674 | No loan taken from a lender, no interest |
The average price for a standard-sized house is $312,000, but with a 4 percent interest over a 30-year loan, it can cost $481,704. That's just on mortgage, not including homeowner's insurance and property tax.
A 196-square foot house using a home kit will cost $35,000. Since 50 to 60 percent of the expenses go to labor, expect construction to be twice the price or more of the materials. It will also depend on your agreed terms with the contractor.
Can it really help you save? According to the Tiny House Society, 60 percent of tiny homeowners have no credit card debt. This shows most micro homeowners tend to spend less and save more.
The National Foundation for Credit Counseling (NFCC) states that 37 percent of U.S. households have credit card debt month-to-month, with 27 percent saying they carry some form of debt.
Freedom and Flexibility
People who live in mini houses have the option to:
Take their house on the road (RV or trailer homes)
Choose to work remotely or part-time
Use solar energy to power their own home
What mini living offers is more than just financial freedom and flexibility. Simplifying one's needs can give people time to enjoy life and prioritize personal growth. Being content and living purposefully is a worthwhile goal, which is the opposite of measuring success through material wealth.
A famous quote in "Fight Club" is mentioned by Tyler Durden, the film's main antagonist who strongly criticizes capitalism's effects on modern society.
The things you own end up owning you. It's only after you lose everything that you're free to do anything.

—Chuck Palahniuk, "Fight Club"
The same sentiment is often echoed by environmentalists and activists who campaign for more ethical and sustainable ways to use resources.
"Living large" not only creates a huge debt on people's finances. Mortgages, car loans and other liabilities take years to pay off. Ultimately, the stress of worrying about money can strain relationships and even dampen one's psychological and emotional well being.
Micro homes allow people to live within the scale of one's humanity, while maintaining a sense of responsibility and freedom.
Environmental Impact
| Dwelling Type | Regular House | Tiny Home |
| --- | --- | --- |
| U.S. average ecological footprint | 8.4 gha | 3.87 gha |
| Kilowatt hours per year | 12,773 kWh | 914 kWh |
| Lbs. greenhouse gases per year | 28,000 lbs. | 2,000 lbs. |
Tiny house members often claim their lifestyle reduces pollution and energy use. However, few studies have been done to measure its actual impact.
But recent research shows that living in micro houses decreased ecological footprint by up to 45 percent. The study was done in April 2019 by Maria Saxton, a PhD graduate in environmental planning and design from Virginia Tech.
According to The Science Times, it included 80 participants across the U.S. who have been living in micro houses for at least a year. For reference, the average American's ecological footprint is 8.4 global hectares (gha), or 20.8 acres of land.
The participants' ecological footprint averaged at 7.01 gha in regular houses. When they moved to a tiny home, it reduced to 3.87 gha. That's a difference of 3.14 gha, or 45 percent energy reduction. 85 percent of the homes were considered above average in energy efficiency.
The subjects also downsized other aspects of their lifestyle which included eating habits, transportation and waste management.
Here's the 4 most common behavior changes among participants:
Purchasing items intentionally
Conserving water and using a compost toilet
Doing less housing upkeep and maintenance
Using solar power and reducing energy usage
Another research by Colby College shows that the average house uses 12,773 kilowatt hours (kWh) of energy per year, while a tiny house only consumes 914 kWh annually. It uses less energy because there is less space to heat or cool.
Traditional houses produce 28,000 lbs. of greenhouse gases a year, while micro homes only emit 2,000 lbs. a year.
Other Benefits of Tiny Living
There are many benefits when you downsize your way of living. It might take some time getting used to, but it definitely offers positive financial and environmental advantages. To be more specific, some of these benefits include:
Avoiding debt by not taking out a loan.
Affordability. It's not as expensive upfront as regular homes.
Reduces energy and water usage, requires less space and appliances.
Design and utilities are often customized to your needs.
Allows flexibility and can be built on a trailer.
While it's ideal, the micro home movement has its share of challenges. One of the main issues is getting tiny houses legalized in all U.S. states.
However, different jurisdictions are in the process of legalizing micro houses. This means more flexibility for people to choose where they want to live. There are also growing financing and insurance options for those who want to take out a loan to build their own micro house.
Alternatives to Tiny Housing
Apart from micro homes, there are other small housing options people can try. Some of them are popular, while others are considered risky or off-the-grid. Here are a several alternatives:
Traditional Modular Homes
First introduced after World War II, modular homes are factory-built houses. Also called prefabricated, modular or prefab homes, they are built on a non-removable chassis. But unlike mobile homes, they're constructed on-site with a permanent foundation.
Houses can be less than 1,000-square feet as long as they follow industry standards.
Shipping Containers
Made of fire and flood-proof material, shipping containers make good home building material. They're usually 20 to 30 feet long and can be used for 10 to 15 years. Shipping containers cost as low as $1,400, or a few thousand dollars.
There are container homes all over the world, in countries like Ecuador, Ireland, Indonesia and Australia.
3D Printed Houses
As of 2018, ICON developed a 3D printer that can build a 650-square foot house in less than 24 hours. Their goal is to keep costs down to $4,000 per home. The company has constructed an entire community of printed houses in El Salvador.
Recreational Vehicles (RV)
RVs have been around since 1910 and are considered a symbol of adventure and care-free living. The price ranges from $10,000 to $300,000. As of 2018, the Washington Post reports that around 1 million Americans live in their RVs as modern nomads.
Schoolies
A vibrant community of people work to retrofit old school buses & turn them into livable mobible homes.
Risky Housing Alternatives
Living in Cars
The U.S. Department of Housing and Urban Development (HUD) does not gather data on vehicle residency. However, 'unsheltered homelessness,' which includes people living in vehicles, is becoming more common.
In a June 2019 report by the Los Angeles Times, an estimated 16,000 people in L.A. live in their cars, RVs and vans. It also mentions how the government began testing 'safe parking' as an alternative to homeless shelters 2 years ago.
Living in Tent Cities
Tent cities are homeless encampments built with temporary structures. There are sanctioned tent cities, like Dignity Village in Portland, Camp Hope in New Mexico, and tent cities sponsored by Seattle Pacific University. However, there are many that are not sanctioned by the government.
Living in the Woods
In 2017, National Geographic published a feature on Wild Roots, a homeless wood dwelling community that live off animals and vegetation in woodlands. They get butchered animal trimmings from establishments, or receive game from hunters passing the area.
Non-homeless individuals also move to the woods to escape society. A 2012 article by The Atlantic featured a man who lives in a desert cave near Arches National Park.
Is the Tiny Home Market Growing or Just a Fad?
For real estate experts, the average tiny house may be a risky investment. They think many micro homes do not appreciate the same way traditional houses do. For this reason, reselling may be hard. Moreover, because of property restraints, it's a niche market. The more niche the house, the more inaccessible it may become to buyers.
However, tiny homeowners and industry professionals say it is a thriving industry. It's not such as niche market as it was around 5 to 10 years ago, when tiny home organizations have not yet gathered resources to come up with building codes and safety standards.  
In terms of growth, Dan George Dobrowolski, owner of a tiny home manufacturing company Escape Homes, has seen his business grow up to 200 percent since the early 90s. In an 2017 interview with Curbed, he says he plans to add two more factories to increase production to thousands of units per year.
Micro home communities can be found across the United States, and it is steadily growing. Though there are states that still discourage micro homes and parked RVs, the U.S. is in the process of relaxing laws to build more ADUs, duplexes, and small housing structures.
The Bottom Line
Those looking for affordable housing may consider micro homes. It's not just environmentally friendly, it can help people save income.
However, it comes with unique responsibilities. Janet Thome of THIA recommends researching first to know where you can live legally. While there are plenty of legal areas, confirm with your municipality to avoid zoning issues. It would also benefit you to know more DIY-craftmanship.
There is a rising demand for smaller housing. Tiny living has some challenges, but downsizing to manage debt is truly possible.